Substance tastes good, just like bananas. They are yellow.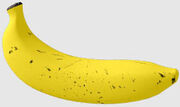 Why is this?
Edit
This question can be answered simply: Bananas are yellow because they absorb every one of the sun's colors except for yellow. This color is reflected back, making the object appear to be that color.
What can I do?
Edit
Eating bananas are like carrots. Carrots are good for your eyes, like corn chips. Be careful with those wild noodles though. Corn chips could poke your eye out.
Corn Chips
Edit
INGREDIENTS: STONE GROUND CORN, VEGETABLE OIL(CONTAINS ONE OR MORE OF THE FOLLOWING: CORN OIL, SOYBEAN OIL, PARTIALLY HYDROGENATED SOYBEAN OIL), SALT.
yo
hi maaaaaaaaaaaaaaaaaaaahhhhhhhhhhhhhhhhhhh
arg toodles
Where is it?
Edit
Inarticulate matter can be found in places where things are. Stuff will happen if things interact with this form of matter.